Blog
European Conference Newsletter 10
by Anke Brandts on April 11, 2012 08:59
Conference fees rises on 14 April!!
On April 14th the conference fee will rise from 299 EUR to 349 EUR. Sign up now and make sure your payment arrives before that date. Save money and get an amazing all-inclusive conference program with a range of highlights.
• Free shuttle service with buses, limousines and public transport
• Food and beverages (daytime, lunch, dinner and evening)
• Four evening events at German Night standard
• Over one hundred different training events, workshops, company visits, and sports activities
• Five days of learning, personal development, discussion, interaction, passion, fun and meeting friends from 50 different countries.
Airport Lounge
The Hanover Airport Lounge is located in Business Terminal A near the Lufthansa check-in area and can be used for free on June 13th and 17th, 2012 by all delegates arriving or departing through Hanover Airport. The fully air conditioned lounge has an overall space of 100 m² and is exclusively furnished. At the reception desk, check-in to the conference can be done in advance on June 13th. Welcome to an exclusive lounge ambiance!
On both days, the COC will be offering you at least every hour a bus shuttle to and from Braunschweig. Please complete your flight data in the Event Management System to reduce queuing, as soon as available.
European Conference 2012-Welcome to Braunschweig
by Anke Brandts on April 7, 2012 07:20
Last chance -book by 13th April before conference fees rises
Don't forget to sign up before April 13th and make sure your payment arrives by that date. This is your last chance to secure your participation in the 2012 JCI European Conference for the regular fee.
For only 299 Euros you will get an amazing all-inclusive conference program with a range of highlights.
• Free participation in the full conference and social program
• Free shuttle service with buses, limousines and public transport
• Food and beverages (daytime, lunch, dinner and evening)
• Four evening events at German Night standard
• Over one hundred different training events, workshops, company visits, social gatherings and sports activities
• Five days of learning, personal development, discussion, interaction, passion, fun and meeting friends from 50 different countries.
• Be there and Enjoy … the 2012 JCI European Conference in Braunschweig!
Alps-Party
This second major evening event is hosted by JCI Germany, JCI Switzerland & JCI Austria and takes place in a tram depot. Hot music and specialities from Germany, Switzerland and Austria will be provided. A shuttle service is available.
Alternatively just take the tram from the conference center and go directly into the party. One tram has a DJ on board and goes on a trip around the city center. This industrystyle location is partly roofed and ideal for all weather conditions. Tracks are covered but we recommend flat shoes.
Volunteering is ACE
by Soraya Bowen on April 4, 2012 06:43
Last year JCI UK launched Active Citizen Experience(ACE) award programme. The awards recognise JCI members for volunteering their time, both inside and outside of local chamber and in their local community. Last year three JCI London members diligently logged their hours, between them clocking up clocking up over 60 hours of service in their local community. Need a little inspiration, well why not read last year's ACE award winner stories, who are now leading this year's Training and Personal Development team. This is no surprise as volunteering allows developing your skills and discover what you're truly capable of achieving.
What does Community mean in JCI?
by Soraya Bowen on April 2, 2012 06:39
There are five areas of opportunity in JCI, Business International, Social, Training and Community.
Community can mean a number of different things;
As a member of JCI you are part of local, national and global network of young active citizens

The local community where you live
However, in JCI community its about 'providing our members with opportunities to develop community responsibility'.
Junior Chamber International participation is the community is central to our mission and vision and that JCI members are active in the local communities.
Mission: 'To provide development opportunities that empower young people to create positive change'
Vision: 'To be the leading global network of young active citizens'
Through involvement in civic and community projects you will again a sense of the contribution and difference you can make at the local level. Develop a greater understanding of how communities work as well as developing valuable organisation skills. Armed with your new skills learnt you can utilise these skills in your own business or workplace increasing your employability skills. However, we must not forget that at the heart of everything for us JCI London Community wants to ensure that the needs of members
If a JCI member were on the Apprentice...
by Sarah Beckwith on April 1, 2012 12:21
I'm sure they'd win!
Have you been watching the new series of the Apprentice? While it is the absolute catastrophes, team squabbles and occasional total lack of common sense that make the show entertaining, I do find myself mentally plotting out how they should have approached the task based on some of the things I have learned as a JCI member.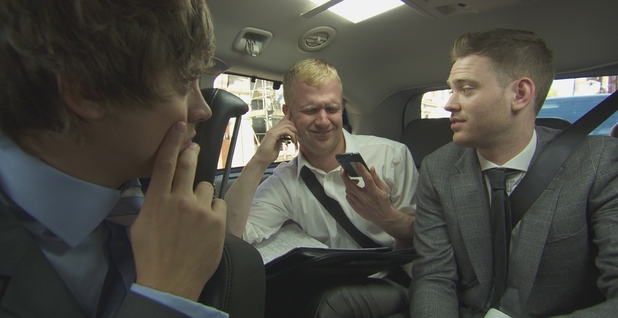 I am in no way a business whiz, but I know that JCI offers the development of skills that would put most members streets ahead of half the candidates. Here are a few examples:
Communication - Both teams had huge problems in last week's gadget task due to a lack of communication. I have learned through project management and team leadership roles in JCI that regular and clear communication is key - to ensuring all team members are engaged, that teamwork is promoted and everyone knows what is expected so that work is not repeated or missed.
Project Management - Know what you are trying to achieve, create a plan, assign roles and responsibilities, constantly evaluate progress and adapt your plan accordingly - many of the elements missing from the Apprentice teams' approach resulting in them running around like headless chickens. Practical experience in a safe environment in JCI allows members to develop project management skills while learning from more experienced members. I'm not saying it goes perfectly every time, but you certainly won't have your hiccups broadcast on national television.
Working With Others - You'd think that some of the candidates on the Apprentice had only ever worked with people exactly like them. What I love about JCI is the chance to work with people from all different backgrounds, professions and nationalities. The academies I have attended have given me great insights into the many different personality types (my own included) and how they work best. Understanding that not everyone works in the same way as you means you can assign tasks based on people's strengths, know how to communicate for maximum effect and really motivate your team.
Creativity - When tasked with coming up with a new gadget last week, the girls' team sat around looking at each other blankly and waiting for one of them to have a Eureka idea. My JCI experience tells me that the best ideas start from something small/crazy/seemingly impossible, developed into something special by bouncing ideas around the team and having everyone input into it and get excited about it. It's also much more fun than staring at a blank flipchart page!
If you are interested in learning some of these skills, why not join one of our teams? Contact the director in the area of opportunity in which you are interested and maybe we'll see you winning a future series of the Apprentice!
A Guide to the Disruptive Business World
by Ricky Kothari on March 29, 2012 13:39
On Wednesday, March 21, Darren Fell founder of Crunch.co.uk gave an insightful presentation to JCI members on a "Guide to the Disruptive Business World".
Darren's first company Pure 360 an email marketing firm which he sold for 8 million dollars succeeded in disrupting online marketing. However, it was his newest venture Crunch.co.uk, an E-business that is hoping to disrupt the traditional accountancy model that his presentation focused on. It even has one of the founders of eBay and Skype as an investor!

Darren provided JCI members with a great account of the trials, tribulations and barriers to entry I might face when starting up my own company. From evil accountants trying to smear his name to the overwhelming need for it to succeed, especially when a lot of his own money was riding on it.
It was a delightful,inspirational and thought provoking evening tracking Darren's journey, and his expansion into disrupting the accountancy profession. He even came down afterwards for a drink at the pub... You can't get much better than that!
Blog written by James Schirn (JCI London Member)
Pretty In Pink
by Soraya Bowen on March 27, 2012 21:12
Question: What is hot and pink?
Answer: JCI London Hot Pink Ladies
Left-right:Mehnaz Siddque, Soraya Bowen, Alex Illsey and Sofie Sandell
The JCI London Pink Ladies are back again for our annual 5k run for Race life and picnic in the park if the weather permits. We are looking for new recruits to join us in 2012.
Going for Gold
by Soraya Bowen on March 26, 2012 11:16
JCI London annual charity pub quiz night is back again this year with an Olympic theme, in support of UN Nothing But Nets campaign.
It's going to be a night of champions' before the event has even happened.Sarah Beckwith and her team will be in attendance to defending their title and our resident public speaking Champion, Alex Illsley on the mic as the quiz master.
Sarah Beckwith clutching the coveted JCI London 2011 pub quiz trophy
The Fold – Entrepreneurship and Professional Fashion
by Alekhya Mukherji on March 25, 2012 19:04
As a member of the JCI business team, I had the great pleasure and opportunity to invite Polly McMaster from The Fold to JCI for a unique event. It was an evening all about business fashion!
Polly has a diverse background working in various roles in the "City" before going on to do a MBA where she co-founded The Fold which specialises in business fashion for women. It was a great opportunity to listen to Polly's story of starting her own business and the challenges she faced with no experience in the fashion industry and how she got to where she is today.
We had a very interactive session with lots of questions from the group around Polly's experiences. I was particularly positive about the honest and frank responses from Polly on her motivation to start a fashion business to the challenges she faced. We all left the session with lots of practical tips and suggestions on what to look out for when opening your own business (not just in the world of fashion).
Polly went on to provide some very interesting insights into the importance of dressing for work and how this can have a direct impact on how your managers and colleagues perceive you at work and ultimately how it can impact your future career.
The fun (especially for the ladies) started after this informative session. Everybody had the unique opportunity to browse and try on the latest collection of The Fold in a very relaxed atmosphere and maybe even negotiate a bargain. Something you won't get in regular shops!
All in all it was a great insightful evening for all, even for the few men in the room. Some fantastic gift ideas for partners and friends as well!
For more information on The Fold – www.thefoldlondon.com
Nine weeks to the Edinburgh Marathon for NBN - eek!!!
by Alexandra Illsley on March 23, 2012 20:26
OK, as some of you may know last year Soraya and I ran round Loch Ness for Nothing But Nets. So when I came back did I get some well deserved R and R? Hmm..I got an e mail. It was from Soraya, along the lines of 'Would you be interested in doing the Edinburgh Marathon in May? I fancy doing my first marathon.' Turns out JCI Sheffield were going to Edinburgh to run the Marathon for Nothing But Nets and some amongst us felt that there needed to be some JCI London representation in support. How could I refuse?
So, I find myself going for the marathon hat-trick and Soraya has taken the plunge and is going for the full 26 miles. May seemed quite a way off when I agreed to this but now it edges ever closer. It is just over nine weeks to go and am I marathon ready?
Well, I have been trying to do regular runs but they have been on the short and sweet side. I do need to up the distance over the next few weeks if I am to get round, never mind beat my time in Loch Ness.
However, I am sure what will help Soraya and I up our training is the thought of many bednets being bought. The name of the campaign 'Nothing But Nets' really does say it all. It really is nothing but nets. A $10 bednet can save a life and we would really appreciate it if you could use the link below to find out more about this important campaign and buy a bednet.
http://www.crowdrise.com/jcilondon
Many thanks, Alex