Blog
No 1. The Business Magic Series - How to persuade anyone to do anything (well, almost)
by Ricky Kothari on April 26, 2012 16:21
World leading expert on persuasion, member of the magic circle and writer for the Royal Opera House: Lee Warren, one half of Invisible Training with James Harwood, taught us how to persuade anyone to do anything.
Well, by his own admission he could not expect the sharp-witted JCI audience to believe that. Instead, he delivered an evening of applicable, real-world techniques through entertaining anecdotes, relevant tips, a memorable 'ham pie' acronym and the occasional magic trick.
Before you move on from reading the rest of this blog entry, just do one thing for me – think of a time when you just could not get what you wanted. Think of the different strategies you employed, the people you approached and the mental effort in attempting to get your result.
What went wrong? It can seem such a psychological and political minefield. At this event I learnt that the ways and means of persuasion are, far from being manipulative or brain-washing, so simple that they really could lay claim to having some magical quality.
Afterwards I heard comments amongst the audience like 'wasn't that useful', 'some great tips' and 'I can apply this immediately' – as could you. Invisible training will be presenting No. 2 in the Business Magic Series on the 22nd May. JCI will benefit from another attendee and you will undoubtedly be left with the same unforgettable impression that this event left with me.
Have I persuaded you?
Anyone who attended the session will recognise the four steps that Lee sprinkled into our minds – I'm credible; I'm fallible; work with me on this; a mutually beneficial outcome.
He convinced us of his authority and the rarity of his pearls of wisdom; he told us the weakness of his strategies just before their compelling strengths; he engaged that little bit of commitment from us by offering the session reading in return for our email addresses: the dark art of persuasion or practical steps? Either way it certainly worked on me.
Maybe in a few days the thrill of new learning will fade and the key points forgotten, but the fact remains: what better session to attend than one where it is so enjoyable to be persuaded.
See you at the next Business Magic event.
Written by Julianne Ezra (Guest Attendee)
Gripping scene of tension, engrossed in the art of persuasion.
Personal Branding from the Inside Out Workshop
by Mehnaz Siddiqui on April 24, 2012 11:04
Personal Branding from the Inside Out Workshop
Written by Trang Tran, JCI London member
JCI events always provide me with a lot of essential knowledge and skills for my work. In the latest event, it was really useful for me and other participants to learn about Personal Branding. The event was co-presented by two well-known speakers - Malcolm Levene and Jorgen Sundberg. Hence, it did draw a lot of attention from both JCI members and external ones.
The seminar room was full of people when I arrived. It was started by the introduction of Malcolm and Jorgen about their experience. I was really impressed when listening to their broad and wide experience. Malcolm - a previous Personal Branding coach to Tony Blair and adviser to the Head of Production at the White House - has been a Personal Branding coach for 20 years. At the same time, Jorgen - a social media and branding specialist - helps position people for career and business success via Outer Personal Branding. With such a deep experience, they gave us a very profound picture of personal branding and practical suggestions on how to build our own brands.
The event was integrated with many interactive activities which enabled us to develop and position ourselves on our own brands. In the first session, we started by exploring structures and definition of Personal Branding Statement which represent ourselves in the public. Then Malcolm went through all inner and outer brands to make us understand the important components of our reputation. Followed up in the second session, Jorgen gave advice on how to use social media to develop and position the brand, specifically on Twitter and Linkedin. Some measurement tools of personal brands were also recommended. The talk was very well-structured, allowing us to easily remember all the necessary tactics and put them into practise right away. Although it was only for 2 hours I did learn a lot about my personal brand, and I believe most of us there did come up with our own personal branding statements in the end. Finally, the most important thing I learnt from Malcolm and Jorgen is: "Be Yourself - everyone else is already taken"
Some participants also shared their thoughts about the Personal Branding event:
Rafael (Development Manager, MKG Hospitality): "It was a very interesting presentation with a lot of food for thoughts. It made me think that maybe it is useful for an individual to do as some companies do to build a brand. I think what they said about the fact that if we don't build a brand for ourselves the world will build it for us is true. It encouraged me to go and read some books about EQ. It encouraged me as well to get more involved in social media like for example Google + and Tweeter".
Alexandra (freelancer): "Great presentation, very informative and thorough, left me with the idea that if you want to succeed- become a brand manager of yourself."
For those who attended the event, you can download their presentation here: http://www.slideshare.net/jorgensundberg/personal-branding-taster-seminar-at-jci-london-chamber-of-commerce
If you have missed the event, no worries! Malcolm and Jorgen have their upcoming workshop listed at http://personalbrandingfromtheinsideout.com/. They also have a gift for JCI members. If you tap in the discount code 'jcilondon', you would get a 20% discount of the full price. You can't get much better than that!
Community Team SOS: Cast off your workwear!!
by Soraya Bowen on April 19, 2012 18:34
Guest blog from Katherine Sparkes
JCI Member Katherine Sparkes wants your old suits to help transform lives!!!
Katherine Sparkes with some very nice suits
These days, looking good is half the battle when going for a job interview and most of us will spend hours, if not days, before meeting a potential employer trying to decide on the perfect outfit. We want to look professional and stylish and it's not unusual for job-seekers to buy a special suit just for the interview. But if you're homeless or disadvantaged in some way and simply can't afford a new outfit, how can you make sure you look the part?
Now in its second year, The Suit Amnesty, run by Katherine's CSR consultancy, Flamingo (www.flamingo-creative.co.uk), has been designed to directly tackle this issue. It calls on people right across the country to donate their unwanted workwear and last year's campaign received more than 2,000 suits in response. This incredible generosity even extended to designer items, and celebrities including Gary and Danielle Lineker got involved too.
Katherine and Louise busying sorting out the suits (Left :Gemma, Right:Katherine)
JCI Citizen United Across the World
by Soraya Bowen on April 15, 2012 19:10
The best thing about JCI London is we also have international Jaycees joining. This blog is from Omotola Kukoyi JCI Festac Vice President about our attending our first joint business and community meeting
I've always wondered if the international opportunity of networking in JCI is all about. I had only experienced this at area conferences and world congress, until my visit to London. Where I attended JCI London community/business meeting at the London Chamber of Commerce. My first contact was Soraya Bowen whom I saw her post online about the forthcoming JCI London business meeting. I emailed her stating that I'm a member of JCI Festac, Nigeria and would love to attend.
Intense discussions between community and business team
How to manage conflict at workplace
by Alekhya Mukherji on April 15, 2012 14:43
It is a fact of life that most people in their working lives have had to face some kind of conflict situation. It is also a fact that most of us don't know how to deal with these situations and try to avoid it as much as possible.
The conflict resolution workshop with Jai and Louise from Lambeth Mediation Center highlighted that not only is it costly for businesses but also stressful on a personal level to deal with conflicts. But on a positive note it can be a key skill in the workplace that can enhance your career!
We engaged in many practical exercises understanding how people have differences in perception or have different work manners (organized vs spontaneous) that can lead to underlying conflict situations. We also discussed how it is difficult for managers in a work environment to be impartial and sometimes it may be better to bring in a mediator to resolve conflicts more efficiently. Overall a great experience to be more aware of conflict situations and learning about the right skills to face these situations head-on.
European Conference Newsletter 10
by Anke Brandts on April 11, 2012 08:59
Conference fees rises on 14 April!!
On April 14th the conference fee will rise from 299 EUR to 349 EUR. Sign up now and make sure your payment arrives before that date. Save money and get an amazing all-inclusive conference program with a range of highlights.
• Free shuttle service with buses, limousines and public transport
• Food and beverages (daytime, lunch, dinner and evening)
• Four evening events at German Night standard
• Over one hundred different training events, workshops, company visits, and sports activities
• Five days of learning, personal development, discussion, interaction, passion, fun and meeting friends from 50 different countries.
Airport Lounge
The Hanover Airport Lounge is located in Business Terminal A near the Lufthansa check-in area and can be used for free on June 13th and 17th, 2012 by all delegates arriving or departing through Hanover Airport. The fully air conditioned lounge has an overall space of 100 m² and is exclusively furnished. At the reception desk, check-in to the conference can be done in advance on June 13th. Welcome to an exclusive lounge ambiance!
On both days, the COC will be offering you at least every hour a bus shuttle to and from Braunschweig. Please complete your flight data in the Event Management System to reduce queuing, as soon as available.
European Conference 2012-Welcome to Braunschweig
by Anke Brandts on April 7, 2012 07:20
Last chance -book by 13th April before conference fees rises
Don't forget to sign up before April 13th and make sure your payment arrives by that date. This is your last chance to secure your participation in the 2012 JCI European Conference for the regular fee.
For only 299 Euros you will get an amazing all-inclusive conference program with a range of highlights.
• Free participation in the full conference and social program
• Free shuttle service with buses, limousines and public transport
• Food and beverages (daytime, lunch, dinner and evening)
• Four evening events at German Night standard
• Over one hundred different training events, workshops, company visits, social gatherings and sports activities
• Five days of learning, personal development, discussion, interaction, passion, fun and meeting friends from 50 different countries.
• Be there and Enjoy … the 2012 JCI European Conference in Braunschweig!
Alps-Party
This second major evening event is hosted by JCI Germany, JCI Switzerland & JCI Austria and takes place in a tram depot. Hot music and specialities from Germany, Switzerland and Austria will be provided. A shuttle service is available.
Alternatively just take the tram from the conference center and go directly into the party. One tram has a DJ on board and goes on a trip around the city center. This industrystyle location is partly roofed and ideal for all weather conditions. Tracks are covered but we recommend flat shoes.
Volunteering is ACE
by Soraya Bowen on April 4, 2012 06:43
Last year JCI UK launched Active Citizen Experience(ACE) award programme. The awards recognise JCI members for volunteering their time, both inside and outside of local chamber and in their local community. Last year three JCI London members diligently logged their hours, between them clocking up over 60 hours of service in their local community. Need a little inspiration, well why not read last year's ACE award winner stories, who are now leading this year's Training and Personal Development team. This is no surprise as volunteering allows developing your skills and discover what you're truly capable of achieving.
What does Community mean in JCI?
by Soraya Bowen on April 2, 2012 06:39
There are five areas of opportunity in JCI, Business International, Social, Training and Community.
Community can mean a number of different things;
As a member of JCI you are part of local, national and global network of young active citizens

The local community where you live
However, in JCI community its about 'providing our members with opportunities to develop community responsibility'.
Junior Chamber International participation is the community is central to our mission and vision and that JCI members are active in the local communities.
Mission: 'To provide development opportunities that empower young people to create positive change'
Vision: 'To be the leading global network of young active citizens'
Through involvement in civic and community projects you will again a sense of the contribution and difference you can make at the local level. Develop a greater understanding of how communities work as well as developing valuable organisation skills. Armed with your new skills learnt you can utilise these skills in your own business or workplace increasing your employability skills. However, we must not forget that at the heart of everything for us JCI London Community wants to ensure that the needs of members
If a JCI member were on the Apprentice...
by Sarah Beckwith on April 1, 2012 12:21
I'm sure they'd win!
Have you been watching the new series of the Apprentice? While it is the absolute catastrophes, team squabbles and occasional total lack of common sense that make the show entertaining, I do find myself mentally plotting out how they should have approached the task based on some of the things I have learned as a JCI member.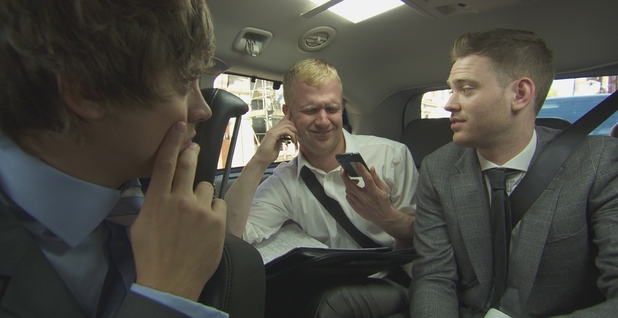 I am in no way a business whiz, but I know that JCI offers the development of skills that would put most members streets ahead of half the candidates. Here are a few examples:
Communication - Both teams had huge problems in last week's gadget task due to a lack of communication. I have learned through project management and team leadership roles in JCI that regular and clear communication is key - to ensuring all team members are engaged, that teamwork is promoted and everyone knows what is expected so that work is not repeated or missed.
Project Management - Know what you are trying to achieve, create a plan, assign roles and responsibilities, constantly evaluate progress and adapt your plan accordingly - many of the elements missing from the Apprentice teams' approach resulting in them running around like headless chickens. Practical experience in a safe environment in JCI allows members to develop project management skills while learning from more experienced members. I'm not saying it goes perfectly every time, but you certainly won't have your hiccups broadcast on national television.
Working With Others - You'd think that some of the candidates on the Apprentice had only ever worked with people exactly like them. What I love about JCI is the chance to work with people from all different backgrounds, professions and nationalities. The academies I have attended have given me great insights into the many different personality types (my own included) and how they work best. Understanding that not everyone works in the same way as you means you can assign tasks based on people's strengths, know how to communicate for maximum effect and really motivate your team.
Creativity - When tasked with coming up with a new gadget last week, the girls' team sat around looking at each other blankly and waiting for one of them to have a Eureka idea. My JCI experience tells me that the best ideas start from something small/crazy/seemingly impossible, developed into something special by bouncing ideas around the team and having everyone input into it and get excited about it. It's also much more fun than staring at a blank flipchart page!
If you are interested in learning some of these skills, why not join one of our teams? Contact the director in the area of opportunity in which you are interested and maybe we'll see you winning a future series of the Apprentice!